Cheaper Child Care
We Provide
Shop a docket offer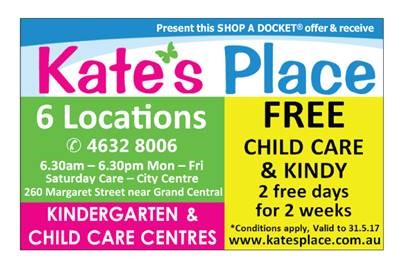 2 free days for 2 weeks
*Two days free given after four weeks of attendance. Free days are redeemable towards child care fees only. No money refunds. Offer void if account in arrears. The voucher cannot be used where the child has attended one of our services in the past six months.
Shop a dockets will be available at following venues
Woolworths, Kmart & Big W at Grand central Shopping Centre
Loyalty Reward
Currently enrolled families - be rewarded a Family Cinema Pass (2 adults & 2 children) for referring a new successful enrolment.
*Offer conditions: Newly enrolled family must attend minimum of 8 weeks before loyalty reward can be claimed. Additionally child must not have attended the centre before and referral must be notified at the time of the new enrolment. Limited to one family pass per new family enrolment (not per child).