Testimonials
Discover what parents say about Kate's Place and the quality of service and care we deliver at our child care centres in Toowoomba, Helidon and Pittsworth.
Happiness
I would just like to extend my happiness on picking up my daughter from day care today. We bought in some wheat that her daddy had collected from a farm where he did some work to show her and thought it would be nice to take in and show her friends. On collecting her this afternoon I was thrilled to walk in and see a whole room of learning and discovery areas set up for the children all stemming from the pieces of wheat we had bought in. This wasn't just your standard extension activity but you could physically see the learning that had occurred. Educator had done an amazing job in the room teaching them all about wheat and the foods it produces to encouraging to explore these foods such as flour and pasta. The children created art work and as they learnt where other foods come from an area had been set up of a make believe farm with the toy animals. My daughter was delighted to show me what they had done that day and talked about how everyone had played all together with the farm they had created. Thank you for the joy it bought me on collecting her today and for the time and effort in the room. I was thrilled to see the wonderful things on display and learning areas so they are able to continue to discover and explore extending on to new and exciting things. Kind regards
N.M
Wonderful Educators
Wonderful Educators at Kate's Place City who assisted in nurturing, loving and caring for my child during his time at the centre. I believe the ladies have gone above and beyond in showing patience, love, support, encouragement and providing education towards my son. You have all assisted in providing a sustainable framework for him to be able to develop into a confident, loving, caring, intelligent and successful young lad. From both myself & my son, we thank you all very much.
H & J
Happy Memories
My 4 year old daughter has been attending Kate's Place City for the past three years. This is her last year, and we will both be sad to say goodbye to our friends. The staff are fantastic and their learning program is great. I cannot recommend the Kindy program highly enough as Miss 4 seems to learn something new every day. They have given her a great start to her learning journey, as well as the all important happy memories.
E.W
Couldn't be happier
When my son first started at the centre Rhonda and the educators went out of their way to ease his anxiety and shyness. They created play and learning centered around his interests to help him settle in. Couldn't be more happier with Kate's Place Wilsonton.
K A
Wilsonton Heights
Would sincerely like to thank Rhonda & the team at Kate's Place for the wonderful care & attention to learning & creativity both my children have received at Wilsonton Heights.
P & R
Thank you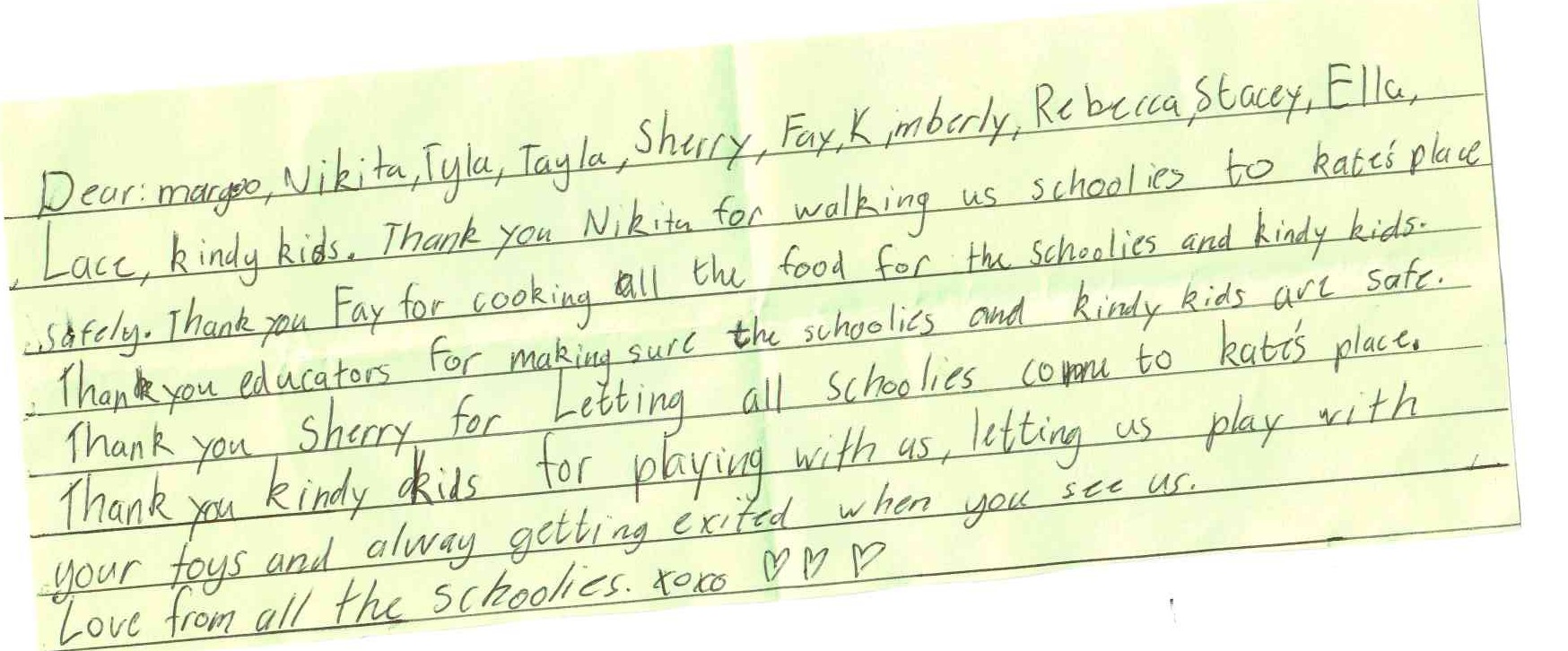 Pittsworth Schoolies
Discover Kate's Place
The best way to find out if Kate's Place is the child care centre for you is to book a tour.